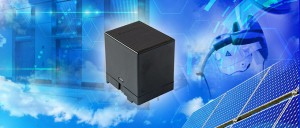 Panasonic Electric Works Europe AG, located in Germany, is the European headquarters for Panasonic Corporation's Industrial Devices business unit with a comprehensive product spectrum for automation products and electronic components.
Automation products: Panasonic automation products mean "one-stop shopping" for machine and factory as well as building automation. This begins with programmable logic controls, process visualization and IT technologies as well as user-friendly software used for programming or parameterization. These systems are complemented by motion control solutions, sensors, machine vision and laser marking systems, code readers and other factory automation components.
Components: The main target markets for components include the automotive industry, factory and building automation, measurement and safety engineering, as well as the photovoltaic branch and technologies for renewable energy. In this respect, we provide electromechanical relays, PhotoMOS and solid-state relays, precision connectors and micro switches as well as built-in sensors for a wide array of applications.