We supply laser cut steel parts for the needs of automated welding processes. Laser cutting is by far the most accurate and the highest speed thermal cutting method for the thin (max 20 mm) steel plates. It is perfect for the parts with small and accurate shapes. The technology also enables bevel cutting and laser marking.
Laser cutting is suitable for almost all the materials. It is excellent especially for the fine grain steels as well as other structural, high strength, wear resistant and stainless steels.
Laser cutting is a thermal cutting process where the material – in this case steel – vaporizes and melts as a result of focused laser beam. Molten steel is blown away by the kinetic energy of the cutting gas. Used gas – carbon dioxide, helium, nitrogen or oxygen –  depends on the material.
The main benefits of laser cutting when compared to flame or plasma cutting are dimensional accuracy, good surface quality and low thermal effects. The advantages also include high speed and straight kerf. Laser cutting technology gives freedom of shape for the designers.
Machinery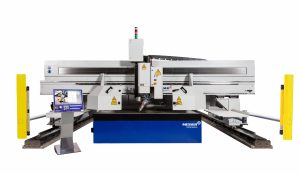 Messer LaserMat II 
Maximum plate thickness 20 mm in carbon steel
Maximum plate thickness 15 mm in stainless steel
Cutting area 3000 x 15000 mm, with bevels maximum width 2500 mm
Rotating 3D cutting head: cutting angle -45/+45° for shaped bevels
Better quality and reliability with 6 kW
Excellent dimensional accuracy with CO²
The excellent combination of our modern machinery and the production management system tailored to our need enables reliable, cost-efficient and high-quality services.
Reprocessing and finishing services include beveling, machining, bending and shot blasting. In addition, we are able to offer heat treatment as well as material testing and classification through our sub suppliers.
We work according to the quality and environmental certificates ISO 9001 and ISO 14001. FI-certificate entitles us to prefabricate structural steel components according to EN1090-2 EXC1-3. Our components can be used in steel structures requiring CE-marking.