Sustainability is an important part of our business. In technical trade sustainability means ensuring the supply chain between the manufacturer and the end customer. For us, it means more responsible purchasing and more sustainable products. We take the environment into account in our own operations as well as in the entire value chain. In order to succeed, we all have to work together.
Carbon footprint
Carbon footprint is the total amount of greenhouse gas emissions of the organization during a certain period. The most significant greenhouse gases affecting the carbon footprint are carbon dioxide, methane and nitrous oxide. Greenhouse gases produced are presented as carbon dioxide equivalents (CO2e).
We have calculated our carbon footprint according to the GHG protocol in cooperation with Reforest Finland Oy for the years 2021 and 2022. In accordance with the GHG protocol, emissions are divided into Scope 1, 2 and 3. We have analysed the emissions of operations under our own control, i.e. the emissions that we can influence.
The scope 1 and 2 emissions were 777,2t CO2e in 2022.
Scope 1 emissions were 44% of all the emissions from our own operations. The Scope 1 category includes all our direct greenhouse emissions, such as emissions from our productions and our own vehicles.
Scope 2 emissions were 56% of all the emissions from our own operations. Indirect greenhouse emissions from the production of purchased energy (electricity and heating) are included in the Scope 2 category.
In addition to the emissions from our own operations, we analysed the indirect Scope 3 emissions of the value chain. Those included inbound and outbound logistics, commuting, business travel, metal recycling, waste and water. Scope 3 emissions are not presented in the graph.
If you wish for more detailed information about Flikenberg's carbon footprint, please mail to: info@flinkenberg.fi.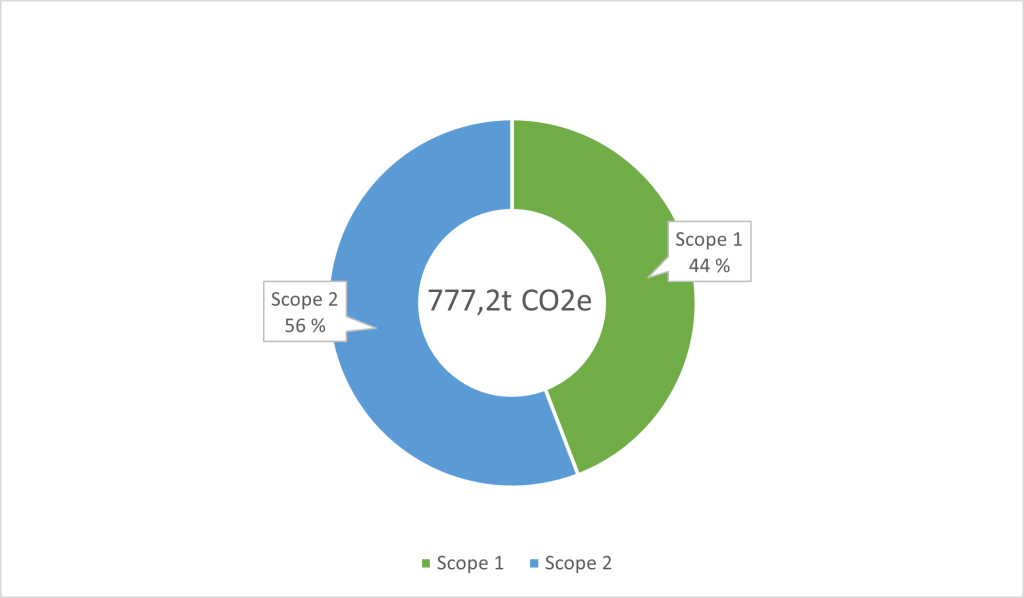 Our goals
Our carbon footprint was 6% smaller in 2022 than in 2021. Our goal is to reduce emissions from our own operations. We aim to increase the share of renewable energy in the electricity and heating in our facilities. We take climate and environmental issues into account when choosing our product range and logistics partners. We are gradually changing our car fleet to low-emission ones. We encourage our employees to cycle to work.
Environmental policy
We work according to the quality and environmental management systems: ISO 9001 and ISO 14001. We follow the law and regulations and respond to the requirements of the society.
Our environmental policy is based on following steps:
Our own solar power plants produce a significant amount of clean energy in all of our locations
We aim to reduce energy and raw material consumption and try to prevent any additional waste and emissions
We recycle packages according to law and directives
We help our customers to choose environmentally friendly products e.g.:

solar systems, e-car batteries, led-lights, low energy components
special structural steels that allow savings in material consumption, weight and costs
sustainably produced biodegradable chemicals
Quality policy
Quality means the ability to meet and exceed the needs and expectations of our customers. To ensure the best quality we are committed to the following principles:
We create new and improve our existing processes and services
We want to solve even the hardest challenges
We survey our customer and employee satisfactions for the development purposes
We take care of the work safety
We document all of our operations and expect the same from our suppliers
We handle claims promptly and constructively
We follow the terms of guarantee according to manufacturers' policy
We achieve our goals – satisfied customers, excellent products, profitable business – by developing our quality, efficiency and wellbeing at workplace
Certificates
STEEL
Steel Service Center in Valkeakoski is certified by ISO 9001:2015 and ISO 14001:2015 standards. FI-certificate entitles us to prefabricate structural steel components according to EN1090-2 EXC1-3. Our components can be used in steel structures requiring CE-marking.
Kerava Reinforcing Plant has a FI-sertificate which indicates that the steel fulfils the Finnish construction requirements.
CHEMICALS
Flinkenberg Chemicals is working according to Responsible Care -program. The aim is on constant improvement.
ENERGY + COMPONENTS
Flinkenberg Energy takes care of their battery responsibilities in cooperation with Akkukierrätys Pb Oy and Recser Oy.
Flinkenberg Energy and Flinkenberg Components as importers of electrical and electronic equipment (EEE) are fulfilling their producer responsibilities in cooperation with Elker Oy. Flinkenberg is a member of the ICT Producer Co-operative -TY.