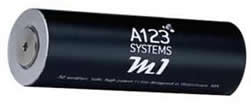 A123 Systems, LLC develops and manufactures advanced Nanophosphate® lithium iron phosphate batteries and energy storage systems that deliver high power, maximize usable energy, and provide long life, all with excellent safety performance
Why A123?
Game-changing Technology
From breakthrough Nanophosphate chemistry to innovations in battery systems management and complete system design, A123 Systems provides game-changing energy storage solutions that deliver a new combination of high power, excellent safety and long life.
Complete Solutions
A123 Systems partners with customers to provide complete energy storage solutions that enable the rapid development and delivery of innovative products that meet demand in both existing and emerging markets.
Commitment to Operational Excellence
At A123, we are dedicated to operational excellence from design and development to production and delivery. A123 continues to invest in equipment and processes to uphold our commitment to providing customers with cost-effective products and services that meet their performance and reliability requirements. Our vertically integrated, state-of-the-art global manufacturing facilities produce high-quality electrodes, cells and battery systems to meet evolving customer requirements for innovative technologies.
Field Proven
With battery systems operating in vehicles ranging from passenger cars to commercial transit buses around the world, our experienced engineering teams have the expertise to integrate advanced battery systems that deliver premium performance in the field.
Speed of Innovation
A123 Systems' engineering team is able to leverage its deep research and development experience and extensive knowledge across customer product platforms to rapidly design and develop new batteries and energy storage solutions that help customers quickly deliver their most innovative products to the marketplace.