Fronius Wattpilot EV Charger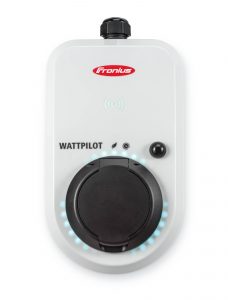 Whether you're at home or on the move, have your own PV system or not: the Fronius Wattpilot charges your electric car more flexibly and intelligently than ever before.
Advantages:
Cost-effective charging with flexible electricity tariffs
Charge with surplus energy from solar systems
Intelligent charging modes for affordable and plannable charging
Simple operation and app for even more overview and flexibility
Two charging modes for flexible e-mobility
Charge your vehicle to suit your needs. The Wattpilot offers two charging modes which can be selected directly on the electric car charger or via the Fronius Solar.wattpilot app:
Eco Mode: The preferred mode for PV system owners. It ensures that your vehicle is charged – whenever available – with self-generated solar power or the cheapest mains current.
Next Trip Mode: Next Trip Mode is for those who want to reliably charge their electric car to cover a specific journey – a certain number of kilometres – by a specific time. The Wattpilot reliably and intelligently charges the required amount. If available, surplus PV power from your own PV system is used or the cheapest mains current.
Solar.wattpilot app
Control the Wattpilot with ease from your smartphone or tablet. From charging modes to charging power, you always have all the key functions and information to hand and at a glance.